Good morning everyone!
I had a few runs this week including one in the Fog ( BOOOOUUUUUU) It was a bit spooky and right in time for the Halloween mood! I just love Halloween and autumn is really my favourite season of all. Nature is changing, leaves are falling in style. Adding colours to a boring concrete sidewalk, putting a big fat smile on my face while running on it! The CrockPot season is back with mouth watering perfume infusing houses, baking goodies for the mind and soul with earthy products like pumpkins and butternut squash. I just fell in love again with this kitchen appliances, what a great tool for a small family like mine, it gives you time while minding it's own business! LOVE IT! Speaking of kitchen tool, It's been a few weeks since a pull out my sweet Georges ( my hamilton juicer ;) ) for my Green morning booster juice and I must confess, my body really miss these:
That daily intake was providing me with so much energy like you wouldn't believe, better than coffee, I swear to god! I will put it back in my morning routine as soon as tomorrow and I suggest you do the same, especially with the flu season knocking at our door! That juice will give you all the nutriments and vitamins that you need to beat the crap of any sickness that you might catch and boost you immune system as well! My personal favourite is a mix of spinach, romaine lettuce, celery, lemons an apples with a kick of ginger!
CHEERS!
I keep on running and keep on rocking with this new gadget of mine, check it out: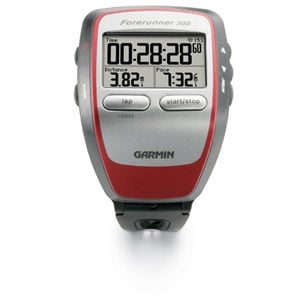 This is my Birthday gift in advance this year from my man. Since I committed myself to running, He couldn't wait until my birthday to give it to me. Smart move because I was looking at theses watches for a while now and was about to buy it for myself!
AMAZING
, really Garmin you have a way of pleasing the runner in me! This is the Forerunner 305 model. Now I can see my time, my pace, my distance, my heart rate..everything! After each runs, I can just in a blink on a click on the computer, see my results, witch is vary easy to set up and it got so many amazing features that I can wait to try in the near future...Did I tell you this tool is AWESOME? Really, my heart is giggling right now :)
Well now, I need a pair of pant to continue my journey as a fearless runner, hope to be able to run thru autumn and winter but for that, I will have to gear up myself with good apparel...I already got my jacket, my Arc'Teryx hat and gloves, my Helly hansen underwears I just miss a good pair of pant...
I found these one:
The Piston 200 for women, I tried it at the runner's room last week...I've been dreaming about it ever since!!! But oh boy, it is expensive, 99$ plus taxes... I know what you are thinking, should I? Really?
It is my birthday coming up after all isn't it? So, why not but this in a little pretty box, from ME to ME...Oh yeah! Sounds right to me, don't you think?
Have a great day and see you soon!